About Us
First opened in 2016, DIY Moto is Ottawa's only Community Motorcycle Garage.  Founded by Shawn Lehn with the vision to create a collaborative shared space to learn and work on motorcycles, DIY Moto has grown a close-knit community of motorcycle enthusiests who come together to work, learn, and share knowledge with each other. 
As of 2023, DIY Moto is under new ownership and at a new location in Ottawa's west end.  Motomike Canada Inc. is proud to keep the DIY Moto tradition going, as well as being able to add a full line of motorcycle parts and accessories on-site, in addition to our vast inventory of NOS and Used OEM parts.  
Our goal is to keep the community rolling, maintain the collaborative workspace under the spirit of which it was originally founded, and continue to expand the tools and equipment available for use by DIY Moto members.
We Believe in COMMUNITY
ALL SKILLS WELCOME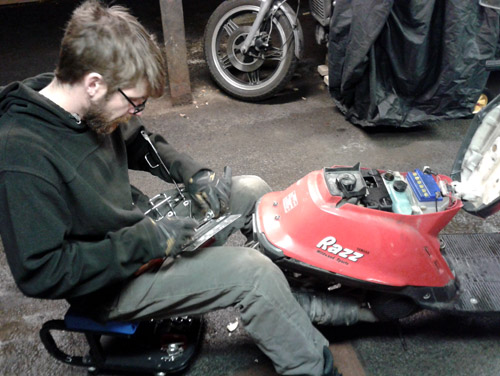 IT CAN BE HARD TO FIND A PLACE TO WORK ON YOUR MOTORCYCLE.
Cities are expanding, and as they do so, the spaces where we live seem to keep getting smaller. As condos, apartments, and shared housing expands, it can be rare to have your own private garage. It becomes hard to find a space to store all the toys you want to own, and makes it more difficult to find space to take care of them. Aside from all of that, you may not have all the tools required to do your own work, or you may never have done that job before and could use some guidance.
THE COMMUNAL GARAGE FOR MOTORCYCLISTS TO SHARE.
With the vision of having a shop for those that don't have their own space or equipment, DIY Moto was created. After years of visualizing the concept, founder Shawn Lehn put the wheels in motion to create the shop. Growing up alongside his father who's an automotive machinist, Shawn loved building and fixing the machine's he's owned, from snowmobiles, ATV's, dirt bikes, and motorcycles. It can be fun to do your own work, and a lot more rewarding than paying somebody else, so with this shop you have the ability to do it yourself with the right tools in an inclusive and collaborative environment.
WHAT THE SPACE LOOKS LIKE.
The shop has 3 bays to work on your bike. Each bay is set up with a lift, a work bench, and it's own set of basic tools. We have a special tool cabinet that contains most of the service tools you may need to do just about any job on your bike.  We have a tire machine, and electronic balancer, and a handful of shop machinery and fabrication tools.  We even have dedicated workspace for specific jobs, like carburetor cleaning, suspension work, and wiring.   You can find out more about the set up and see the listing of tools on the shop page.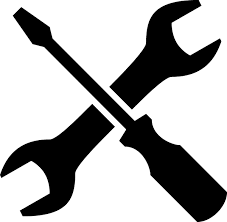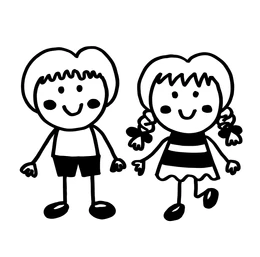 bIKES, bUDS, BUILDS,
GOOD-TIMES
Our Mission
To continue to be the best place to work on your motorcycle in the National Capital region.  To maintain a fun, collaborative, inclusive, and safe environment where motorcycle enthusiasts of all skill levels feel welcome and encouraged to tackle projects and repairs with the confidence that the community has their backs to help them see it through to the end.
Our Vision
To build on the foundation created in the first 6 years of operation, continually improving the workshop by adding tools and equipment that best fits the needs and uses of our members.  We want our workshop space to be your go-to spot for gaining new skills, sharing old skills, and meeting new and interesting people within our community.  Not just a place to work, a place to belong.
our parts department
Motomike Canada Inc. was founded by Mike Maguire, who has worked in the automotive and powersports industry for decades. From working in the shop turning wrenches, to becoming the parts manager of a major automotive dealership, and then running Motomike Canada full-time since 2017, you can be assured that we have the expertise to help guide and support your project with the right parts, at the best prices, every time.
YOur hangout
Not only can you come in to work on your motorcycle, but it's also a place where you can meet others with similar interests. You can come and relax on the couches, grab a cup of coffee, and just hang out and talk with other motorcyclists and see what sort of work they've got going on. You never know who you might meet, what you could learn, and the inspiration you'll get for your next project. 
Visit 
17 Fitzgerald Road
Unit 101
Nepean, ON
K2H 9G1
DIY Hours
Weds:  4pm - 8pm
Thurs:  4pm - 8pm
Fri: 3pm - 8pm
Sat: 10am - 4pm
Other Hours by Appt.
(contact us)