membership
Join our DIY Moto community.
All skill levels welcome!
The Moto Socialite
(Hang and Sustain)
In-Season Monthly Dues $25

Hourly Shop Rate N/A

OR Daily Shop Rate N/A

Nightly Bike Storage N/A

Tire Change N/A

Tire Disposal N/A

Fluid Disposal N/A

Trailer Service N/A

Wrench Nights Included
Air hose & Wash Access Anytime
Parts Discount 5%

Parts Storage N/A

Winter Storage $200
The Joy Rider
(No Commitment)
In-Season Monthly Dues N/A

Hourly Shop Rate $40
OR Daily Shop Rate $100
Nightly Bike Storage $10
Tire Change $25
Tire Disposal $5
Fluid Disposal From $3
Trailer Service $40

Wrench Nights (Full Price)

Air hose & Wash Access While Wrenching

Parts Discount 5%
Parts Storage $10/mo
Winter Storage $300
The Commuter
(Frequent User)
In-Season Monthly Dues $100
Hourly Shop Rate $20
OR Daily Shop Rate $50
Nightly Bike Storage $5
Tire Change $25
Tire Disposal $5
Fluid Disposal From $3
Trailer Service $40
Wrench Nights Included
Air hose & Wash Access Anytime
Parts Discount 7%
Parts Storage $10/mo
Winter Storage $150
The Wrench Monkey
(Unlimited Wrenchin')
In-Season Monthly Dues $300
Hourly Shop Rate $0

OR Daily Shop Rate N/A

Bike Storage Included
Tire Change Included
Tire Disposal Included
Fluid Disposal Included
Trailer Service 1x Included
Wrench Nights Included
Air hose & Wash Access Included
Parts Discount 10%
Parts Storage Included
Winter Storage Included
the not-so fine print
 ALL PRICES SUBJECT TO TAX
*1- In-Season Rates begin April 1st until October 31st, dues are billed monthly from the day of the month your membership starts.
Pre-payment for full season is possible, with additional discount.
*2- 1-hour minimum, booked in half-hour blocks thereafter. Daily Rate is billed instead of hourly, not in addition to.
*3- Storage is billed for 30-days(nights) with a refund given for unused days (e.g. billed for 30 nights, used 2 nights, refunded for 28 days at checkout)
*4- Tire Change is per session not per tire; Fee waived if tires bought in-house
*5- Fluid Disposal fee waived if fluids bought in-house
*6- Enclosed Trailer service within local area, subject to availablilty. Additional charge may be incurred based on distance.
*7- Parts Discount for hard-parts only, and excludes Fluids and Tires which are already price-matched. Joy Rider discount applies to parts purchased for installation on-site only.
*8- Parts Storage Bins are available at $10 per bin per month. Parts purchased in-house will be held for free until your appointment (within reason).
*9- Winter Season rate for storage from November 1st through March 31st; this is a one-time fee NOT a monthly rate
** Only Commuter and Wrench Monkey have priveliges to work on their bikes during the winter season, space is limited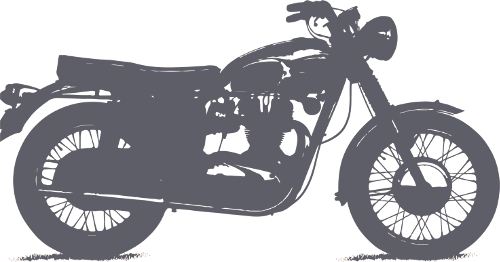 Shop Ammenities
There are 3 Motorcycle Service Bays in the shop, 2 with table lifts and one with bottom lift or paddock stands. Each Service Bay has a work bench and it's own set of basic hand tools.
We have separate work stations for such jobs as Suspension Rebuilds and Fork Seals, Carburetor Rebuilds, and Electrical Work. There is also access to specialty tools such as the Wheel Balancer, Drill Press, and Special Service Tools.
Most common shop supplies are included with your rental, and we have a full inventory of consumables at your disposal.
We have a fully stocked Parts Department in-house, via Motomike Canada, with access to most major brands  of aftermarket replacement parts and accessories all at competitive pricing — with discounts for active members!
6 inch Bench Vice
Metric and SAE Socket Sets
Metric and SAE Wrench Sets
Torx and Hex Drive Sockets
Screwdriver Set
Pliers, Side Cutters, Vice Grips
Mallet & Ball Pein Hammer
Pneumatic Tire Changer
Computer Wheel Balancer
Static Wheel Balancer / Truing Stand
Drill Press & Band Saw
Torque Wrenches
Metric and SAE Tap and Die Sets
Air Tools & Impact Sockets
Electrical and Battery Testing Tools
Snap-On Inspection Camera
Compression and Leak Down tester
Suspension Seal Drivers
Carburetor Tools and Holders
+ Much More
Basic Motorcycle Maintenance
Oil and Tire Changes
Chain Maintenance & Replacement
Fork Seals & Fork Oil Replacement
Clutch Replacement
Brake Service, Pad & Fluid Replacement
Carburetor Cleaning
Electrical, Battery Testing and Replacment
Installation of aftermarket parts and accessories
Custom Fabrication
And so much more!
Before You Leave:

Put Your Tools Away
Roll Your Bike Off the Lift and out of the way
Put Your Tools Away
Throw Away Your Trash
Put your Tools Away, so the next person can find them
Return Special Tools to the correct Special Tools drawer
Leave the Stall as Cleaner Than When You Arrived
(Put Your Tools Away!) 

Let Us Know If You Have Used the Last of a Consumable Shop Supply
Never Use a Machine If You Are NOT Trained – Always Get Training Before Operating Any Machinery.

You must attend general safety training and specific training on the machine you intend to use.  If you are unfamiliar with a particular tool or instrument, do not use it until you are properly trained on its usage.

Never Start Work If You Cannot Do The Job Safely – Just Don't Do It. There are limits to what we can build here, and how safely you can do it in hurry.
Closed-Toe Shoes Must Be Worn in The Shop.  Never Wear Open Toe Shoes, Sandles or Crocs –  Tools, chips and fixtures are sharp, and often hot. Shoes will help protect your feet from injury.
Never Work Without Proper Eye Protection – Always Wear Appropriate Safety Glasses or Goggles When Working or Cleaning Tools. Prescription glasses with plastic lenses must meet ANSI Standard Z87.1 for safety.
Never Work With Loose Hair, Jewelry, etc. – Always Remove or Secure Anything That Might Get Caught in Moving Machinery including gloves. Long hair, necklaces, ties, dangling ID badge, jewelry, loose clothes, watches or rings, may get caught in tools resulting in serious injury or death. 
Keep Dust and Smoke to an absolute minimum. Do not run engines inside if it can be avoided. 
Never Be Shy To Seek Help – Always Ask. If You're Unsure About The Safe Operation of a Tool or Any Aspect of a Job
Never Remove Safety Guards – They are Present For Reason You must ensure that safety guards are in place on moving parts before you start working.
Never Leave Broken or Damaged Tools or Abnormal Equipment Unreported – Always Inform Us to Remove That from Service and Get It Repaired. Broken parts or equipment can result in serious injuries and delays. ABUSE of the equipment will not be tolerated, and you may be billed for the amount of damage caused by using a tool improperly.
Visit 
17 Fitzgerald Road
Unit 101
Nepean, ON
K2H 9G1
DIY Hours
Weds:  4pm - 8pm
Thurs:  4pm - 8pm
Fri: 3pm - 8pm
Sat: 10am - 4pm
Other Hours by Appt.
(contact us)